Q. How has your reading habits changed since you were a teen? or If you are still a teen what new genres are you in love with currently?
As a teen, I read a lot but I was more into urban fiction, african-amercan focused fiction or cultural novels. Growing up in a predominately white, suburban middle class neighborhood, I enjoyed reading anything that was about life but not my life. I read a lot of Walter Mosely, Bebe Moore Campbell, Eric Jerome Dickey, Carl Weber. I wanted to read about anything that had to do with the "hood." I also wanted to read anything that had to do with other cultures, especially coming of age novels involving Hispanic or Asian main characters. My habits have changed a lot. I'm drastically more open to different genres and authors. Yet, I have less time to read. Sigh.
Book Blogger Hop is a weekly meme hosted by
Crazy for Books
This weeks question is:
"Let's talk crazy book titles! Highlight one or two (or as many as you like!) titles in your personal collection that have the most interesting titles! If you can't find any, feel free to find one on the internet!"
The one that sticks out in my mind is Miss Peregrine's Home for Peculiar Children and The Girl Who Circumnavigated Fairyland in a Ship of Her Own Making.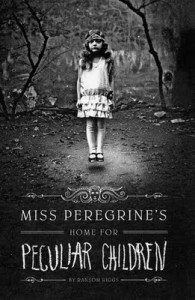 Author Block Party:
If you could gather a handful of authors to hang out with,
who would you choose?
J.K. Rowling and J.R.R. Tolkien (you know if he was still alive). Just those two would be enough.
On a personal note: My son started middle school yesterday.
Doesn't he look to little to be in middle school? Sheesh.